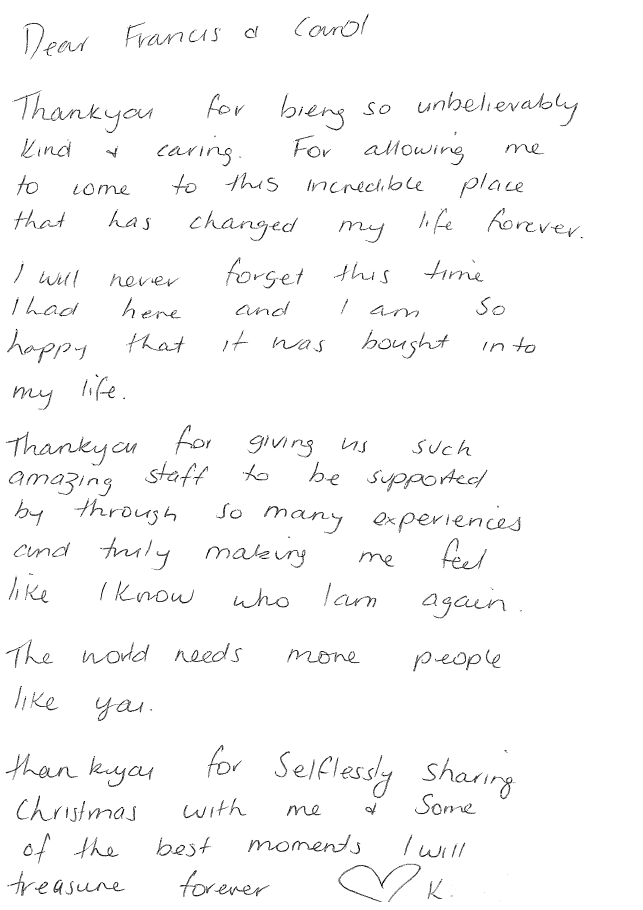 Words cannot describe how you and your team have helped me look at life differently and the perception of everything I put my hand to.
I'd like to pass on my gratefulness and thankfulness for the value of all that I've learnt.
My boat is now sailing in the opposite direction and leading towards joy, happiness and liberty.
My wife Ella, my boy Hugo and the rest of the family will all be thankful for your kindness and the help that the team has provided.
Keep up the great work, keep helping people's lives and I know that through the goodness of God, you will be blessed.
Once again, thankyou.
Written with thankfulness and affection.
One year on and I am truly, truly grateful to the Health Retreat!! They changed my life and I would not be where I am today without them! For anyone interested in seeing more about my journey at the retreat or finding out where I am now, feel free to check out my blog @ Carpe Manda.
To any clients of the Health Retreat (past, present or future): never ever give up hope! This is a place where magic happens, be patient, it will happen for you to
To all the Staff at the retreat: from the bottom of my heart, thank you for the amazing work you do every single day – I hope to come and visit sometime soon. Love you all xxxx
Warm regards,
Amanda Rose
The work you guys do is giving this generation and the next generation, the best life and best start to a new life possible,
To help people to love themselves when all they have done is burn the candle at both ends to support their guilt, and in illusion, carry the stress of trying to keep other people happy.
I went to the Retreat a depressed, angry, irritable man and I left, a man that could step back, take a look at the bigger picture, help other people, and give true quality love to my
loved ones. I've been taught to love myself so I can love other people by teaching myself self-value.
I'm so happy and proud to be Alan now, I'm jumping out my skin, all thanks to your wonderful team!
I would like to say a special thank you to Matt for helping me, and guiding the deeper parts of my brain to deal with what I didn't want to deal with and help sift through
it in the dream state, and for giving me the tools to start the morning with a strong meditation to ensure that I have a good happy peaceful day.
Id also like to thank Beth for helping me to understand myself, to help me justify everything I did in a way that let my guard down, and we addressed the issues without self-judgement.
I'd like to thank Rebecca for her kindness, and her continual kindness throughout the whole program.
I'd like to thank Clint for every small thing he does that makes the biggest difference.
A massive thank you to all of the kitchen girls for their delicious food, which was an absolute treat.
I would like to give a massive thank you, to both Carol and Francis, for the countless hours of regulated empathy and availability that you give of your own lives.
You guys are both soul donors ! Thank you, thank you, thank you for making my life and my loved ones lives so much more wonderful!!
And One last big thank you to, Carl, who relays the information in your program so well and in so many different ways, so that everybody in class understands.
He is so enthusiastic and real about every question asked, he knows his job and does it so well. He has the gift of talking to people, and answers so personally to people that he hardly knows at all.
So a huge cheers to Carl & his gift, for the difference he makes in peoples day at the Health Retreat.
Big Cheers and Thank you, again, over and over.
Warm Regards
Alan
The Health Retreat
My 3 lifelong affirmations as a result of my stay in "The Health Retreat" is
This life is better than the life I had before.
I can do this and I will do this.
Never give up, never give in and surrender.
I struggled to deal with a serious ongoing alcohol addiction. I had countless failed attempts. I tried many different avenues, over many decades, all to no avail. I was at a loss as to how I could rectify my madness. It had taken over my very being. I was a slave to the bottle and I couldn't see anyway out.Thankfully I found The Health Retreat.
At the Retreat I had my own personalized program that was designed to suit my needs. Daily seminars which covered many different aspects…life lessons on how to deal with situations when life's not going to plan, mindfulness, meditation, healthy eating plans, exercising and massages. It was delivered in a clear concise language that was easy to absorb and follow. The structure was logical and effective. Francis, Carol & the whole team were amazing. They have put a lot of thought and expertise into designing the program and the results are inconceivable.
Since leaving the Retreat I have gone from strength to strength. Implementing the lessons learnt on a daily basis with a clear unclouded vision for my path "I choose to take". My future is looking wonderful. Able to deal with the ups and downs of everyday life without even a thought of retuning to my former self.
I am very grateful for my time spent at the Retreat, the staff are incredible, they are knowledgeable, warm, kind and truly inspirational. A life changing experience that I can sincerely recommend to anyone, of any age and of whatever background.
I can finally live this one life to the fullest, with gratitude, wisdom and a new positive outlook on everything and everyone.
I wholeheartedly thank the entire team at The Health Retreat for changing my life and more than likely saving my life.
Forever thankful, Adam
Our testimonials are unsolicited and are true representations of messages we receive from our clients and their loved ones. There is no guarantee of a particular result, but if you read through these testimonials you will see that we get many positive outcomes.