Just thought I would let you know that David has now beaten his addiction.
He has been successfully employed for a lengthy period of time and is now a Dad to two beautiful children..
His journey commenced at your retreat
Thankyou for all the assistance you provided to him and I wish everyone who enters your retreat the same outcome.
Regards
A
Thank you. I certainly miss the beautiful staff & their amazing care and love they blessed me with.
I'm so happy to be back to my joyful contented self without alcohol and sadness bringing me undone …
Happy to live life to the fullest thanks to everyone's input/knowledge and outpouring love
Feeling blessed and loved
big hugs and kisses guy's
Cheers K
Hi all

It's Will, well i have been 100 days today without alcohol and im not going to say it's been easy because it hasn't especially the last few weeks..  I was going to come for a surprise visit today but because of the weather i have to put it off..  can u please say HI to everyone for me and I hope to see you soon.

Love Will xx

ps:  Thanks again for everything xx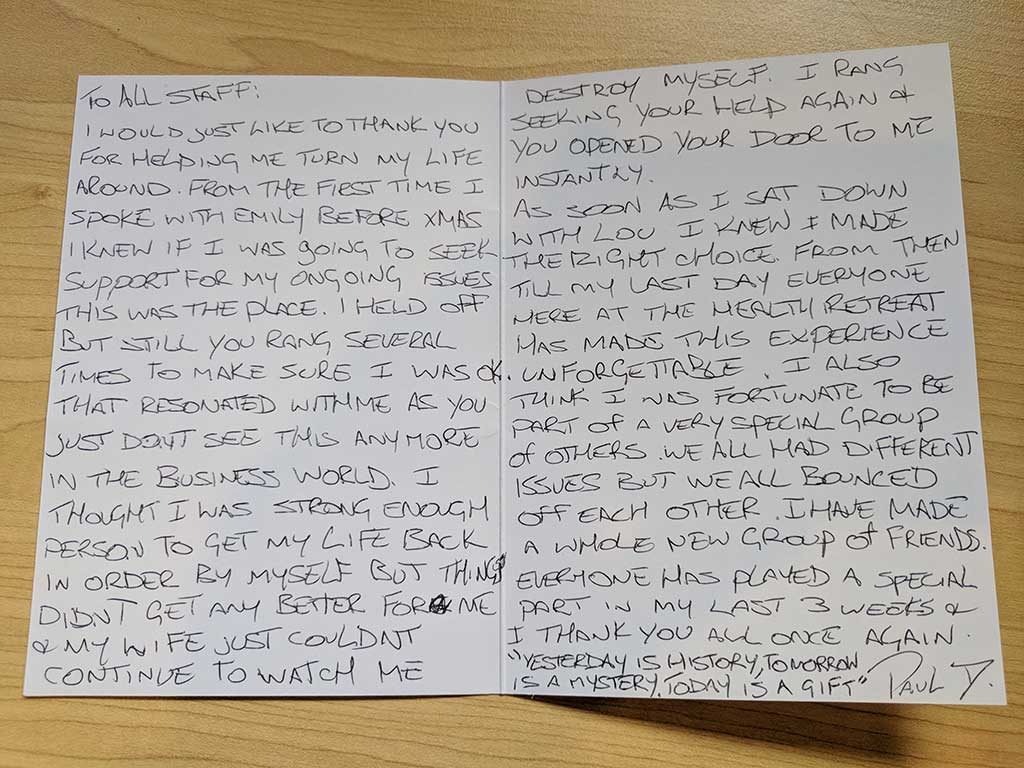 After 20 years of going in and out of various rehabs in Queensland and NSW we finally found The Health Retreat, just when we were about to give up on our eldest son. Two weeks at The Health Retreat last year and he was and still is a totally different person. The Health Retreat has achieved in two weeks what others hadn't managed to do in two decades.
Francis, whatever you and your wonderful staff are doing, keep doing it.
We've witnessed a miracle.
Thank you for giving us back our son.
Our testimonials are unsolicited and are true representations of messages we receive from our clients and their loved ones. There is no guarantee of a particular result, but if you read through these testimonials you will see that we get many positive outcomes.