Things to consider when choosing the right retreat for you…
Location (Particularly overseas facilities)
Retreat location is very important with regard to your health. While minimal there are risks that pertain to your condition, if the unlikely were to happen it is important to be close to competent medical assistance that won't give you a nasty medical bill. Also, political stability and laws are very important.
Process
Once you have contacted our qualified professionals, they will assess your individual needs, appropriate treatment recommendations and process to start the recovery process.
Our programs are far superior to the very costly ones you will see on the internet , and are delivered by a team with over 100 years of experience.
Many cheaper retreats use the step program, or a religious belief structure. The Health Retreat Recovery Centre do not use such methods or force any belief systems onto clients, we give you rational scientific reasons for how you feel this way and most importantly teach you how to let go of your triggers.
HOW LONG WILL I OR A LOVED ONE NEED?
The Health Retreat can assess your or a loved ones' individual needs and the type and length of program required for you.
One size doesn't fit all, and you will need a program designed for the best possible outcome.
It is so easy and stress free to make a booking
Firstly
You need to work out which program you have decided on. Also, what dates suit you for arrival.
The admission can be confirmed with a $1,000 deposit, usually paid by card or bank transfer.
We will then organise an admission plan/confirmation call so we are totally prepared for your arrival.
Clint will book any flights and transfers that are required, send a list of what to bring, and of course directions on how to get here.
We want to make getting here as easy and stress free as possible.
Look Forward to seeing you soon.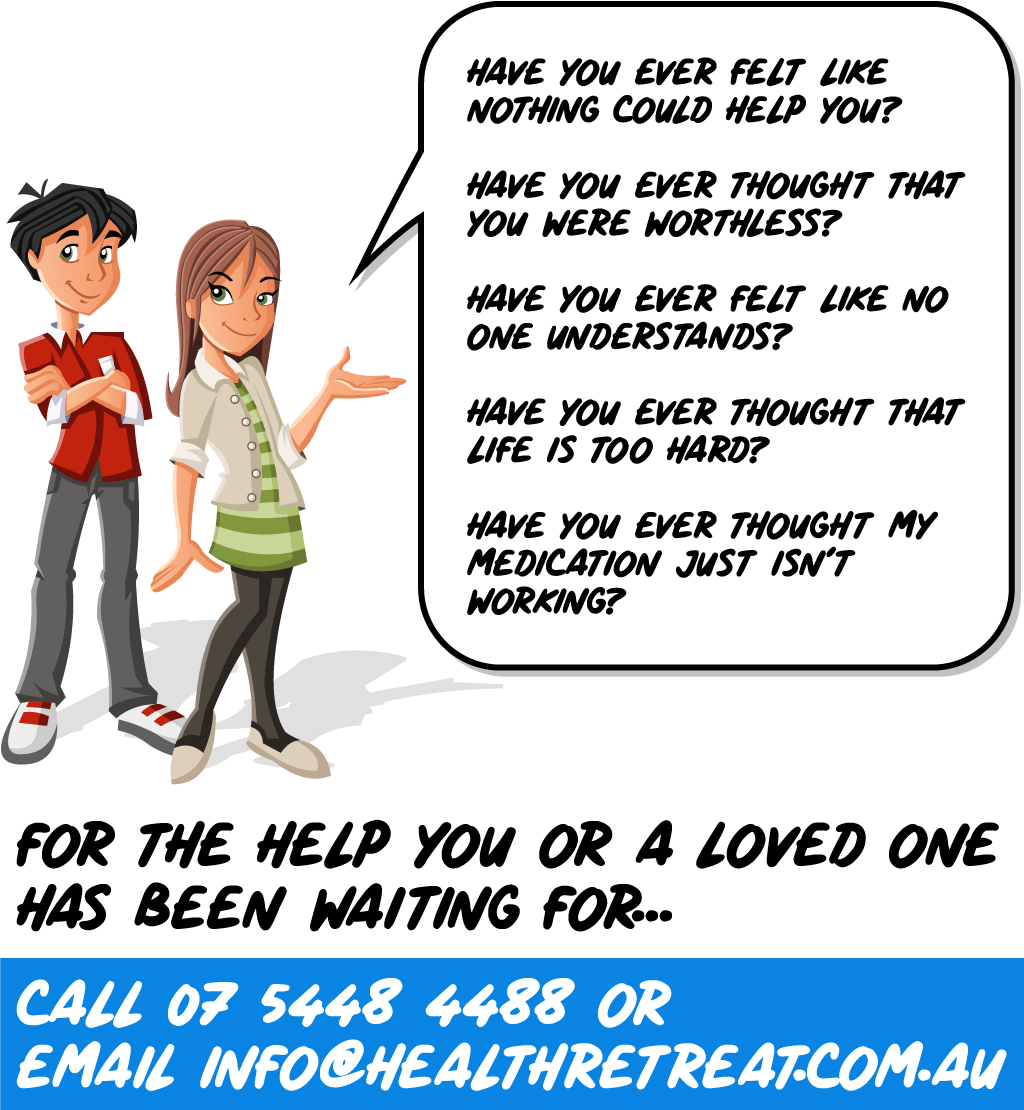 ---
A program is only as good as the quality of the person who delivers it.
It has to be effective and structured, addressing the Mental Health, the life skills, self worth and physical, a truly holistic approach.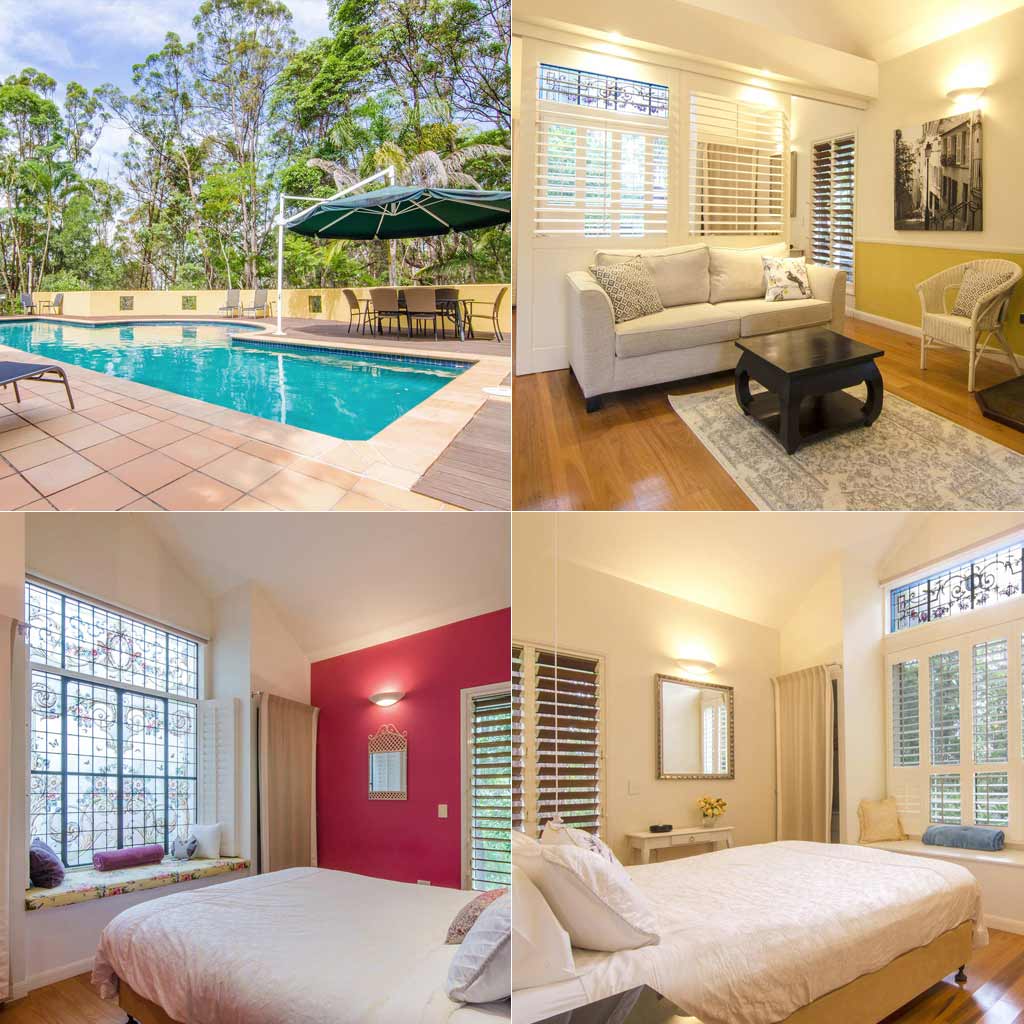 ---

All programs include:
Daily focus sessions on triggers and relevant challenges with upgrades for transitioning back into day to day life post retreat.
One-on-one psychotherapy, CBT, ACT, DBT, REBT, schema, critical incident management, post-trauma counselling, strengths-based practice, life coaching, journey, inner journey, and mindfulness sessions as required to re-enforce the changes to your first response to stress, getting rid of triggers, rebuilding self-worth, and setting the stage to go forward with peace of mind.
One-on-One program assessments. Adjustments are made to the program to best suit the individual ensuring the best long-term outcome.
Organic Cooking School Lessons. Learn the secrets of cooking organically.
2-day intensive session. An in-depth understanding of what depression, anxiety, and stress are, and understanding what to do long term. 12 hours of life changing work.
16 hours of real life therapies. These sessions run through real scenarios to better prepare you for life after the retreat.
Educational sessions in stress and many life preparation tools. These are not like group sessions you see in hospitals or on TV. They are used to consolidate the changes made to your thinking, to give you a new normal. The team are brilliant in educating you in real life situations. Talk therapy doesn't work, re-education, rebuilding self-worth, real tools for life's challenges. It will make sense and give you the blueprint for regaining your life. There is not a more comprehensive or effective program anywhere.
Full naturopathic seminars on healthy living. Learn from an expert who worked in Chinese hospitals for 7 years. Get the information you need to look after not only yourself but your family.
Full naturopath. Get results on your physical and biological situation, and understand what to do about your wellbeing long term.
Full doctor consultation. Our GP will give you a check-up and assess where you are now, and more importantly what to do now.
Introducing the foundation to understanding stress, anxiety, and depression.
Applying the program to your everyday life.
Mindfulness is best described as yoga for the brain, accepted universally as an extremely effective therapy for life.
Also included:
Breakfast, lunch, and dinner. Using premium organic food where available.
Weekly food school.
Stretch classes.
Juice protocols Tuesday to Thursday (optional). A 3 day cleanse gives the digestive system that little break it needs to recharge.
Daily group exercise activities at your pace, morning and afternoon. This is part of the lifestyle change after the years of abuse to our body, so regaining the lifestyle change is crucial
Laundry facilities.
Each cabin has a relaxing lounge.
Campfires
Swimming pool
Sauna

Advanced Blood Analysis
Pyrrole Testing
Personalised Genetic Profile Testing
BIOSCREEN
DUTCH PROFILE PLUS (Comprehensive hormone testing)

Tests all forms of oestrogen (blood tests only test 1 form), androgen, cortisol, adrenals, melatonin
Hormonal imbalances
Sleep issues
Stress and anxiety
---
---
Superannuation
Most of us have been in the workforce and as such have superannuation.
Rules
The rules around releasing superannuation prior to retirement are there for a reason, however, sometimes access to the funds may be needed. Our program can fall under "compassionate release of super" and if an application is substantiated, then the money for treatment can be approved.
Release My Super
Release My Super specialises in this area and has established relationships with psychiatrists. They are fast, efficient and compassionate. Release My Super takes the worry out of everything.
Call Release My Super on 1300 090 261 or visit the website for further information.


www.releasemysuper.com.au
Attention Business Owners
Find out if you can claim this program via your business
It's a huge saving if you can.
IMPORTANT TO NOTE
The Health Retreat understands that each persons challenges are unique to them.
Our Professionals will put in place an admission plan which is individual and relevant to your recovery and have the components you need.
Your Health Retreat program is assessed daily and upgraded to make sure you get the help you need.
REFUNDS
Unused Health Retreat Program components are not refundable however in most cases can be transferred to a family member. No refunds will be given if a program is canceled during the person's stay. However if a valid reason is given why the person cannot continue their program, the Health Retreat Pty Ltd, may at its discretion make some form of restitution.
This will be solely at the discretion of the Health Retreat Pty Ltd, and no further correspondence will be entered into, The Health Retreats decisions in all matters pertaining to refunds are at the sole discretion of the Health Retreat.