I don't know how you what or how you and your wonderful team did to help my eldest son but after 2 weeks he is a totally different person.
You've worked a miracle and I cannot recommend The Health Retreat too highly.
God bless you all for your fine work.
– Alex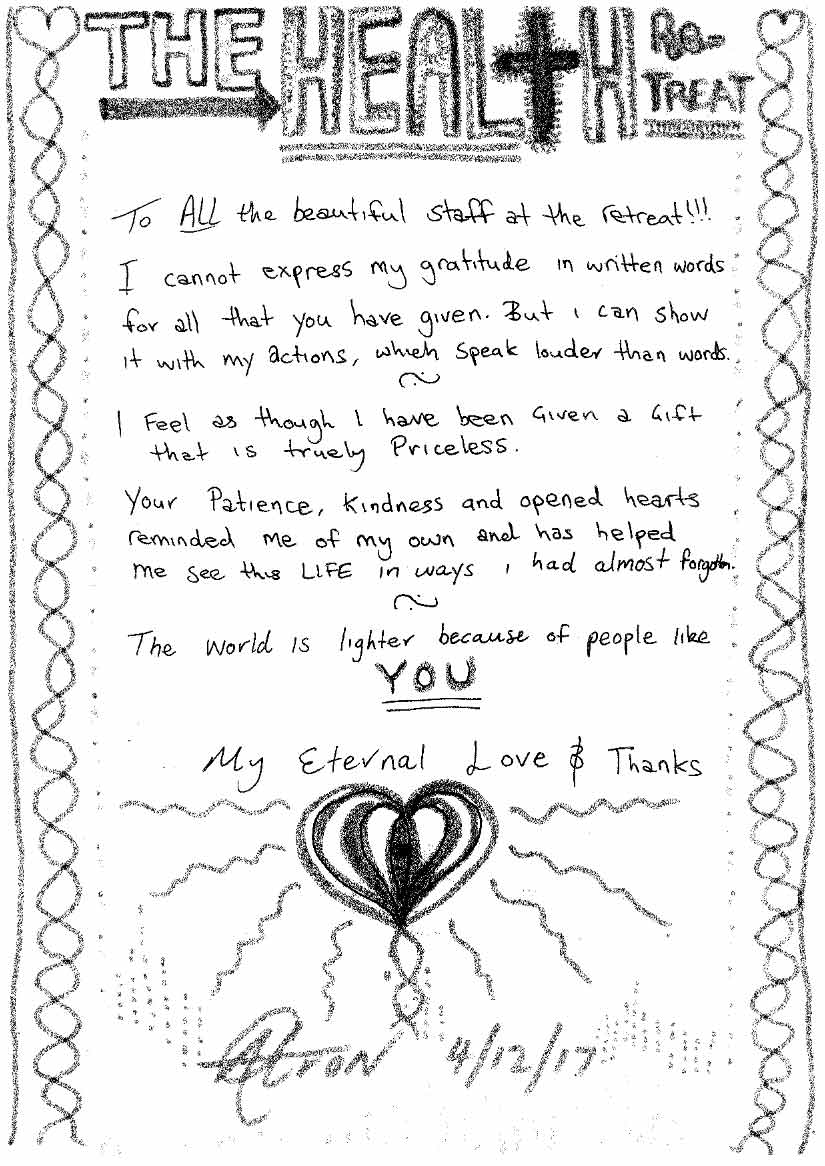 Would love to spend some time at the health retreat again. Changed my life.
Mark
Good morning to all the team at the health retreat.
12 months has passed since my visit to the retreat and I can favourably say that I am feeling great about my life. I continue to practice all that I have learnt from your teachings from knowing who "I am, why I am here" to accept control then appreciate the everyday Swell of emotions, thoughts and feelings that come over me. I continued with CBT and completed courses in mindfulness for positive performance.
What have I learnt.
To have gratitude for those who have gratitude toward me
I am my own belief system and I control that belief
Grateful for all that I have around me
That communication is a golden key to unlock unwanted feelings of concern. This dissipates my anxiety and stops that spiral of decent.
Things happen in life for many reasons, however it is how I deal with those things whether good or unwanted determines the outcome
To not react to situations immediately and give yourself time to think about that reaction. It always feels better when you don't react.
To let the small matters go before they manifest
Exercise is an important part of healing and wellbeing
Mindfullness meditation and awareness does settle the mind and allows for a feeling of calm throughout the day
I now realised that I have begun to pass on all my learnings to friends, family and colleagues. I believe that this has been one of the most satisfying outcomes to come from "my" mental health issues.
It will always be a life's work keeping positive, happy and grounded but if that is what it takes for me to continue feeling good and pass that on to loved ones then I am all for it.
Regards
Ian
Hi,
Today I am celebrating a year of sobriety, a whole year of freedom. My life has completely changed, from falling apart around me to living a full, rewarding, awesome life. I'm a better partner, mother, friend and I have actually started to like myself again. I'm sure I wouldn't have had achieved this if it wasn't for the ongoing support from everyone at the retreat, so thank you. I hope you are all well.
Kindest Regards,
Karen
Our testimonials are unsolicited and are true representations of messages we receive from our clients and their loved ones. There is no guarantee of a particular result, but if you read through these testimonials you will see that we get many positive outcomes.