To Carol, Francis and the team at The Health Retreat:

Thank you, thank you, thank you, thank you for the amazing experience that I have had during the program. Although I reached all my goals and couldn't be happier – the journey was the best part. You are all a group of amazing people and I couldn't have blossomed without all of you.

Carol

Congratulations for putting and creating an amazing program. You've helped me become healthy and fit. Prior to arriving I never exercised and because of your motivation and good nature you've got my muscles pumping and wanting more. you have made me so welcome and been so attentive to all my needs. You're a great model with an even greater heart. Thanks for everything.

Francis

Well what can I say about the funniest bloke in town! Thanks for being like a second dad, it was nice to have someone to whinge, nag and ask for help too! Your are such a lovely person you've done an amazing job and the retreat would be lost without you. Your positive comments (and jokes) got me through the days. It's a blessing meeting you and I have to say you and Carol are amazing parents as I've never met a child as gorgeous as Hudson.

Jo

Jo, you are such a fantastic woman. You are so so so easy to talk to, you listen, give great advice and I felt I had a part of family when I was with you. It was so easy and comfortable when chatting. you really did make me feel great about myself and brought confidence out of me. your evening discussions were amazing and you do such a wonderful job. You're beautiful inside and out and couldn't have got by each day without a smile, thank you.

Jenny

You are the best yoga teacher by far! You've really inspired me to go home and do yoga you have one of the most beautiful souls I've come across and your energy is amazing. I always looked forward to yoga and dinner everyday and it was mostly because of you! You feel like a second sister and you always listened and was supportive. I hope your travels go well and your positive energy spreads. Thanks for everything – including Sunday walks!

Richard

You are one inspiring person. you amaze me and look up to you so much. Your life experiences that you shared with me were eye-opening, motivating and magical. Because of you I have the drive to achieve so much more from life. you truly are a man of wisdom, you have give me some wonderful quotes and I've never learnt so much about the world from anyone else. Thanks for all the life-coaching and knowledge.

Salima

Wow you are something different. Never did I think I could let go of everything we discussed. You are a miracle worker and have been blesses with an amazing gift that you share with so many people in need. Without you I couldn't have succeeded in becoming 100% Your seminars were brilliant and you taught me things that I once believed impossible. You help so many people and the world (especially) The Health Retreat are lucky to have you as part of the team.

Liz

Thanks for all the delicious food you cooked/prepared. I am leaving here with the determination to stick with a gluten-free diet. Meal times were definitely my favourite time of the day! A few of my person faves: spag bowl, curries, omelettes, rice salads, tagine I could list lots more. Hats off to the chef!

Helga

Sorry I didn't get to say goodbye! Thanks for all the weekend support you offered. you are so caring and considerate and looked after everyone and did a good job with the food! You are an amazing photographer. Thanks for all your help.

Sadly, I must leave but I'm prepared and excited to go home!

Thank you again to the whole team you are truly wonderful and have given me the best experience of my life. You have no idea how much you've helped me.
Maggie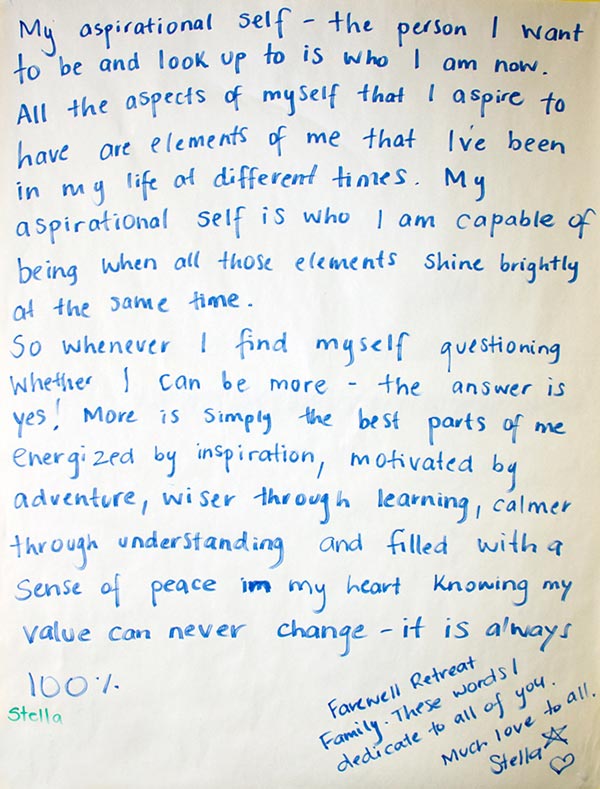 My aspirational self – the person I want to be and look up to is who I am now.

All the aspects of myself that I aspire to have are elements of me that I've been in my life at different times. My aspirational self is who I am capable of being when all thoe elements shine brightlyy at the same time.

So whenever I find myself questioning whether I can be more – the answer is yes! More is simply the best parts of me energized by inspiration, motivated by adventure, wiser through learning, calmer through understanding and filled with a sense of peace in my heart, knowing my value can never change – it is always 100%!

Farewell Retreat Family. These words I dedicate to all of you.
Stella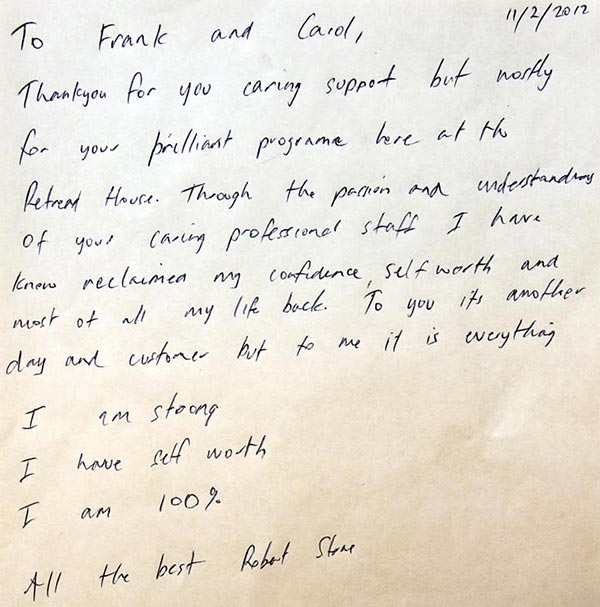 To Frank and Carol,

Thank you for your caring support but mostly for your brilliant programme here at The Health Retreat. Through the passion and understanding of your caring professional staff I have now reclaimed my confidence, self-worth and most of all my life back. To you its another day and another customer but to me it is everything.

I am strong.

I have self worth.

I am 100%.

All the best.
Robert 
You have all helped me more than you know, in so many ways. Thank you.
Rachel 
I have seen every doctor in Melbourne, you name it. Every time the periods between stints became smaller and smaller. I did 28 days with The Health Retreat. WOW, What I didn't realize is I needed to understand what is  behind my depression and anxiety , now I know the reasons, and they are no longer a trigger,  depression and anxiety are things I used to do. No more medication, my mind is my coping mechanism now.  I urge you to try it.
Anita, Sydney 
Our testimonials are unsolicited and are true representations of messages we receive from our clients and their loved ones. There is no guarantee of a particular result, but if you read through these testimonials you will see that we get many positive outcomes.