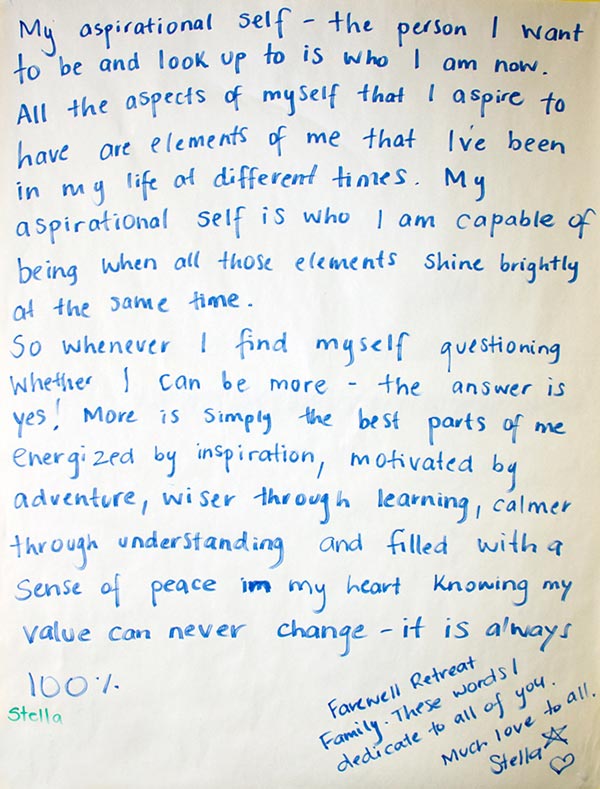 My aspirational self – the person I want to be and look up to is who I am now.

All the aspects of myself that I aspire to have are elements of me that I've been in my life at different times. My aspirational self is who I am capable of being when all thoe elements shine brightlyy at the same time.

So whenever I find myself questioning whether I can be more – the answer is yes! More is simply the best parts of me energized by inspiration, motivated by adventure, wiser through learning, calmer through understanding and filled with a sense of peace in my heart, knowing my value can never change – it is always 100%!

Farewell Retreat Family. These words I dedicate to all of you.
Stella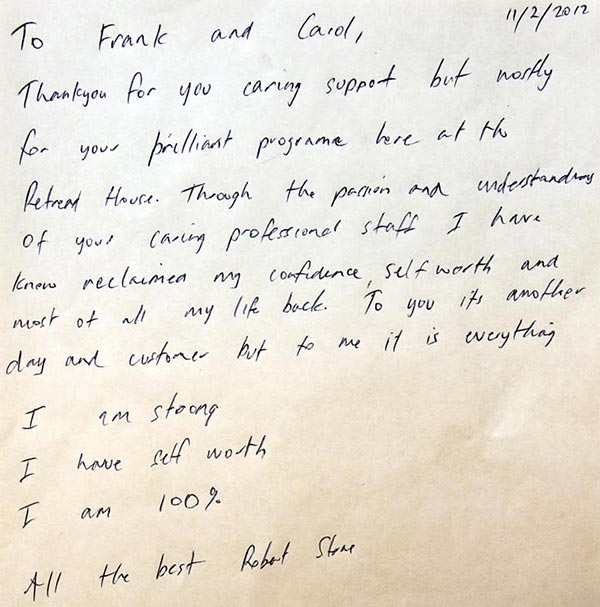 To Frank and Carol,

Thank you for your caring support but mostly for your brilliant programme here at The Health Retreat. Through the passion and understanding of your caring professional staff I have now reclaimed my confidence, self-worth and most of all my life back. To you its another day and another customer but to me it is everything.

I am strong.

I have self worth.

I am 100%.

All the best.
Robert 
You have all helped me more than you know, in so many ways. Thank you.
Rachel 
I have seen every doctor in Melbourne, you name it. Every time the periods between stints became smaller and smaller. I did 28 days with The Health Retreat. WOW, What I didn't realize is I needed to understand what is  behind my depression and anxiety , now I know the reasons, and they are no longer a trigger,  depression and anxiety are things I used to do. No more medication, my mind is my coping mechanism now.  I urge you to try it.
Anita, Sydney 
Our testimonials are unsolicited and are true representations of messages we receive from our clients and their loved ones. There is no guarantee of a particular result, but if you read through these testimonials you will see that we get many positive outcomes.