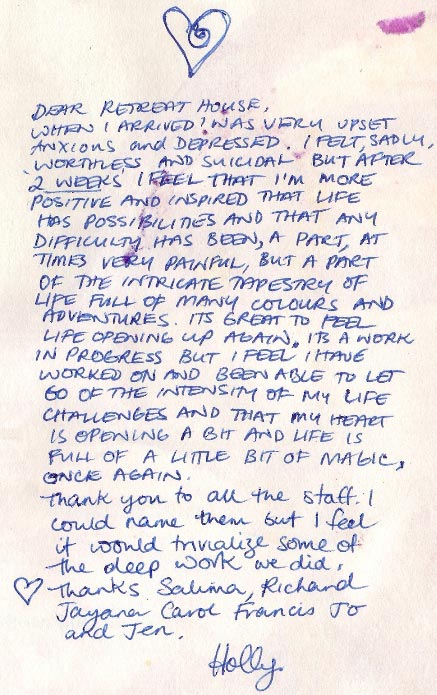 Dear Health Retreat,

When I arrived I was very upset, anxious and depressed. I felt sadly, worthless and suicidal, but after 2 weeks I feel that I'm more positive and inspired that life has possibilities and that any difficult has been, a part, at times very painful, but a part of the intricate tapestry of life full of many colours and adventures. It's great to feel life opening up again. It's a work in progress but I feel I have worked on and been able to let of of the intensity of my life challenges and that my heart is opening a bit and life is full of a little bit of magic, once again.

Thank you to all the staff.
Holly

Dear Francis, Carol and all the staff at The Health Retreat,

When you told me at the beginning of my journey that two weeks could change my life forever I'll be honest, I didn't fully believe you. Now I must eat my words so to say because I am leaving here as a new woman with a renewed sense of purpose in my life.

The caring, compassionate, intelligent, intuitive and supportive staff here have peacefully guided me through this journey and I appreciate all of you and your unique gifts. I hope you all realise how special you are as people to do what you do with genuine compassion really sets apart you and other therapists I've been to. You have allowed me to open up and completely change the way I look at myself, my behaviours, my beliefs and life in general. I know this is a journey and I still will grow, Learn and develop. The tools you have given me will allow me to face my challenges and live more authentically. No more hiding in my house! Hehe!

I truly wish you all the best for the years to come and hope to forge my pathway in a way that is similar to yours. I'm planning to learn as much as I can about natural therapy as you have inspired me.

From the bottom of my hear thank you! My appreciation for your program the amazing staff is limitless.

P.S. You are all truly talented and that expertise combined with your genuine compassion has made all the difference.

All my love,
Kathy
Absolutely Amazing!

This is the best I've ever felt in my whole life. After only fourteen days at The Health Retreat, I can see the difference in not only my physical health, but my emotional and mental health. After suffering depression for over 20 years, I didn't think it was possible to feel this way.

The "Method" that The Health Retreat uses is truly unique and it actually works. The way they explain, fully backed by modern science. I almost filled my A4 notebook with notes. I've been back home for a few days now, and I can definitely see that life is going to be a whole lot better for my going to the retreat.

I really can't recommend The Health Retreat highly enough. The whole team really care about your well-being, adapting your retreat experience to your specific needs. I'm on my way to living medication free for the first time in 13 years! I feel so excited and inspired and passionate about life, which is something I've never really experienced.

A very BIG "Thank You" to Jo, Carol, Francis, Selima, Richard and Jen!
Miranda
To Francis, Carol and all staff at The Health Retreat.

I can not thank you enough for what you have all done for me. From the moment I stepped off the plane you all made me feel nothing but comfortable and relaxed. Which was something I hadn't felt in such a long time. When I first came to the retreat I was a a broken man and my life was fully upside down and now you have turned my ship right way up and I'm all set to sail into the future with a whole different perspective on life. I belive theres no other program that could've done this for me or even come close. I'd have no problems recommending this program to anyone and everyone. So again thank you all so very much for giving me the tools for my now bright future.
Kristan.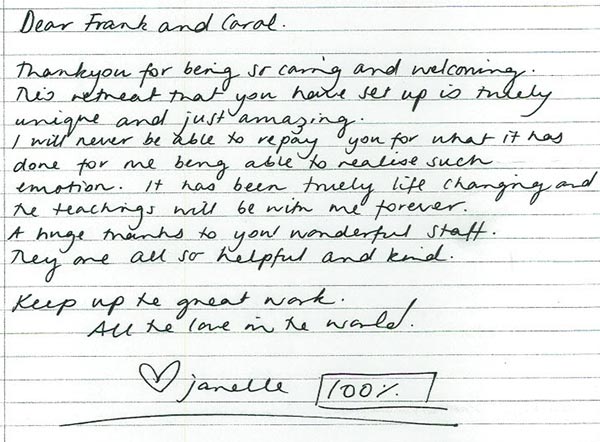 Dear Frank and Carol,

Thank you for being so caring and welcoming.

The retreat that you have set up is truly unique and just amazing.

I will never be able to repay you for what it has done for me, being able to realise such emotion. It has been truely life changing and the teachings will be with me forever.

A huge thanks to your wonderful staff. They are all so helpful and kind.

Keep up the great work,
All the love in the world.
Janelle 
Our testimonials are unsolicited and are true representations of messages we receive from our clients and their loved ones. There is no guarantee of a particular result, but if you read through these testimonials you will see that we get many positive outcomes.