Before coming to the retreat I had many up and down days. Going back a couple of years since I lost my mum, my best friend. Most recently I fell into a big black hole after at work I was told that a ex work colleague was coming back to work and there was nothing I could do about it. When she had left before she told the boss she would never work with me again because I was always angry. On hearing this I went into my black hole and just wanted to sleep and shut the world out plus I just cried and cried non stop and for two days did not eat just slept.

I decided I needed help from somewhere so after logging in to the Internet I found the retreat. Only a little while after sending my request for information Frances found me. Trying to talk to hum in between crying was very difficult but he assured me, him and his team would be able to help me. This gave me something to hold onto. So for a week before I got here I went to work on autopilot. After getting to the retreat everyone staff and guests made me feel like I was part of the family. On meeting Salima my life coach my world started to brighten. Salima made sense of things and helped me release a lot of feelings and old way of thinking about my life and past.

The stage 1-3 were amazing classes held by Richard, Salima and Jo. This helped me learn how to look at life positively again. I could work through anything and everything that life threw at me now. More sessions with Salima, one on one, were amazing. Helping me realise a whole lot about myself. The best thing about the retreat is everyone here has been through things as I had and all new exactly where I was coming from. This helped me immensely as no-one that I have ever spoken to before had been were I was and could not understand the way I felt or behaved towards myself.

The walking trips we had every morning with Carol, have made me feel alive again. The yoga session in the evening with Jen were wonderful. It has helped me become more flexible in body and mind. On leaving I have realised how wonderful these people are and how wonderful they have worked with me and beside me to help me get where I am today. I feel fantastic and full of knowledge about how to help myself through my next stage of life.

Thank you to EVERYONE at the retreat you have allowed me to believe in myself, love to you all.
Kerry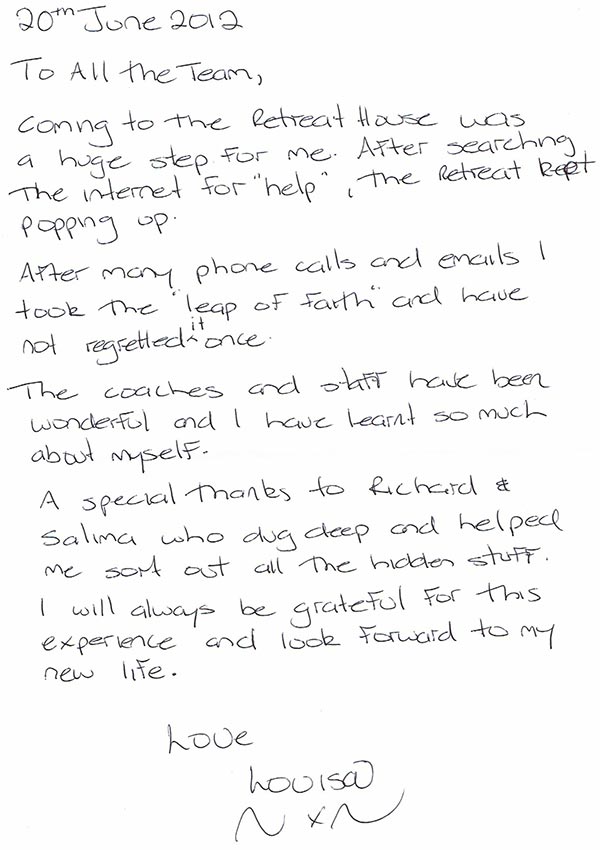 To all the Team,

Coming to The Retreat House was a huge step for me. After searching the internet for "help", The Retreat kept popping up.

After many phone calls and emails I took the "Leap of Faith" and have not regretted it once.

The coaches and staff have been wonderful and I have learnt so much about myself.

A special thanks to Richard and Salima who dug deep and helped me sort out all the hidden stuff. I will always be grateful for this experience and look forward to my new life.
Lousia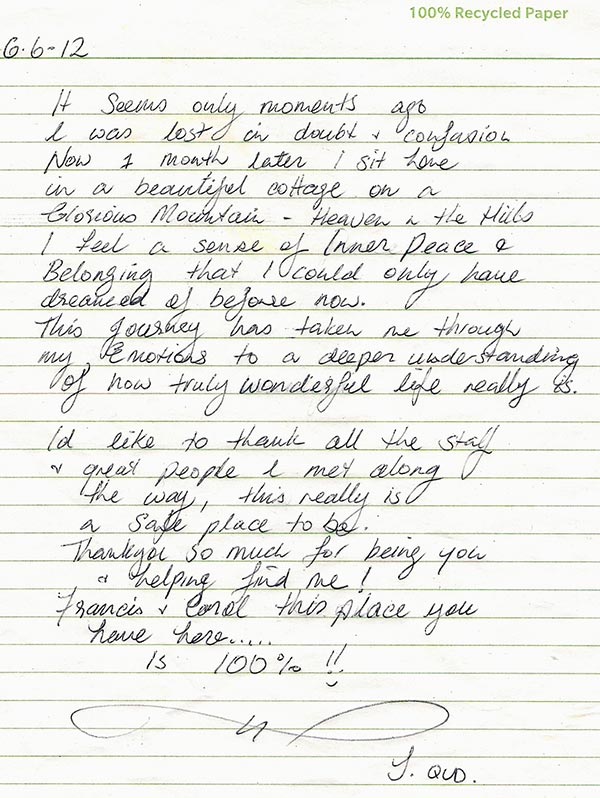 It seems only moments ago I was lost in doubt and confusion, now one month later I sit home in a beautiful cottage on a Glorious Mountain – in the hills. I feel a sense of inner peace and belonging that I could only have dreamed of before now.

This journey has taken me through my emotions to a deepen understanding of how truly wonderful life really is.

I'd like to thank all the staff and great people I met along the way, this is really is a safe place to be. Thank you so much for being you and helping find me!

Francis and Carol this place you have here… is 100%
Janine

Drugs took hold of my mind, they fed upon my weakness and recognised my desires to find my personal utopia.

I forgot all my pain and worries lost my mind and came to my senses.

But when the rush was over, all was put to death by reality.

The realisation that it was all fed upon illusions mad me fall hard.

My heart started to hurt but my head could not tell me why, nor could my eyes see the source of my pain.

Every minute seemed dark and thousands of questions and thoughts ran through my mind.

My only relief seemed to be in search for another reality. This world felt like another planets hell and life seemed but a quick succession of busy nothings…

Now in "heaven" my pain has subsided and the sky's have cleared.

I have learn the circumstances and situations that truly colour my life, and how my greatest gift is my mind and with that I have been blessed with the opportunity to not only choose the shade in which I view things, but the ability to learn from all my experiences and grow into the future.

I have learnt that it is in the quick successions of busy nothings that the beauty is held.

It's the living in the present moment
It's in the dreams of the future
It's the human relation found in a complete stranger
It's in every smile we give and receive
It's the release of the fear and doubt
It's the realisation that we are only "doing" anxiety and depression
It's the love for ourselves and the understanding of other people
It's everything that is possible in reality

If we just lean to let life unfold, learn to enjoy the journey, learn to recognise our learnings and learn to grow through our beliefs we will see it, we will see that only when we choose to face life, and not escape from it, will we experience the kind of happiness that is not fearful of the roller-coaster of life, but in turn excited about the possibilities of constant growth, change, development and true self love.

For in the shadow of darkness what dreams may spiral, but in the road of life what experiences may come.

Before I cam to the retreat I felt an overwhelming feeling of dispare, disapointment, lost, fear and darkness, like there was no way out, no learnings left to explore.

Now, through the retreat I have learnt a greater understanding of wisdom, an escape from my old  thinking, a profound feeling of strength and a greater love of myself, life and nature. I will forever be greatful and will never again try to break my feelings of emotions, but instead embrace them for once an truely feel alive.

Thank you.
Michelle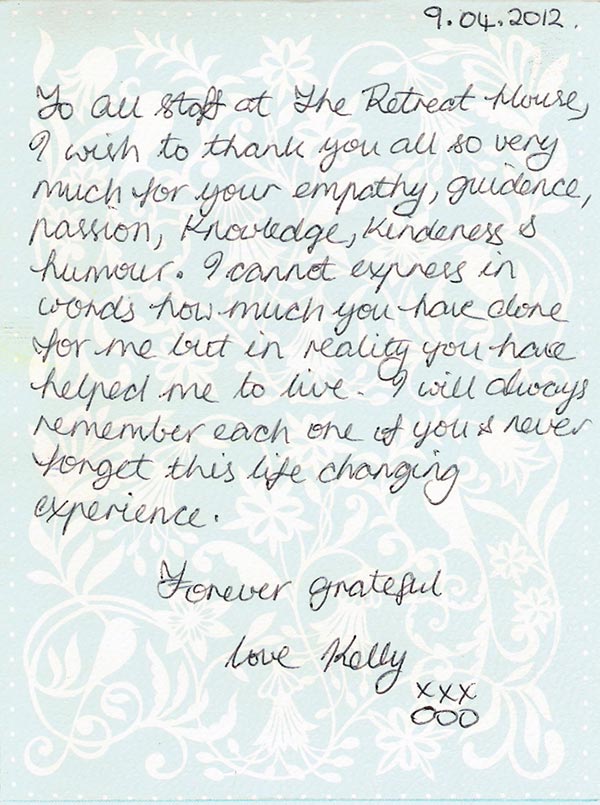 To all staff at The Health Retreat I wish to thank you all so very much for your empathy, guidance, passion, knowledge, kindness and humor. I cannot express in words how much you have helped me to live. I will always remember each one of you and never forget this life changing experience.

Forever grateful.
Kelly
Auckland, New Zealand  
Our testimonials are unsolicited and are true representations of messages we receive from our clients and their loved ones. There is no guarantee of a particular result, but if you read through these testimonials you will see that we get many positive outcomes.