To my amazing new friends at the retreat house,

From the very bottom of my heart I wanted to thank you all for sharing my journey with me.

Carol, thank you so much for the morning runs. Also the amazing Frank I appreciate all the "dad" jokes along the way, the inspiring talks and the the boxing lesson you gave Dave and I!!

To the amazing kitchen and support guys and gals (Kate, Clint, Cath, Jenny, Helga, Veronica) thank you so much for the lovely nourishing food, support and program you set out for me. It all helped add to the experience I received.

A big thanks to you Jen for the Yoga….. Oh amazing!

Where do I begin with the team of Life Coaches….. (Salima, Richard, Jayana, Jo) I am so grateful for the wisdom, knowledge, learning, growth and development I received in my time with you at the retreat house. In different ways you have all added to my life and the new ways in which I am learning to live my life through your passion and expertise in wisdom. Words can not express what you all mean to me and the experience I had with you will forever live in my heart and I will continue to grow and develop wisdom from the little seed t you all helped me plant and nurture at the start of my journey.

To the massage therapists, art teacher and Drum teacher (Bec, Helena, Jude, Helga and Carolita) than you for helping me realize the important of looking after my body and exploring the creative side of me!

To the guests that I had the pleasure of meeting along my journey short or long (Bryan, Graham, Jasen, Todd, Pete, Ryan, Dave, Alex, Scott, Matt) thank you for playing a part in my journey I can't wait to catch up with you guys again soon.

Last but not least little Ozzie, thanks for just being you!

Ooops….. One last thank you….. Nature for the amazing retreat in the Hills!

To anyone I may have forgotten to mention by name….. THANK YOU!

My final words which helps me remember Wisdom…..
Journey, Learning, Change, Worthy!
Love Dani xxx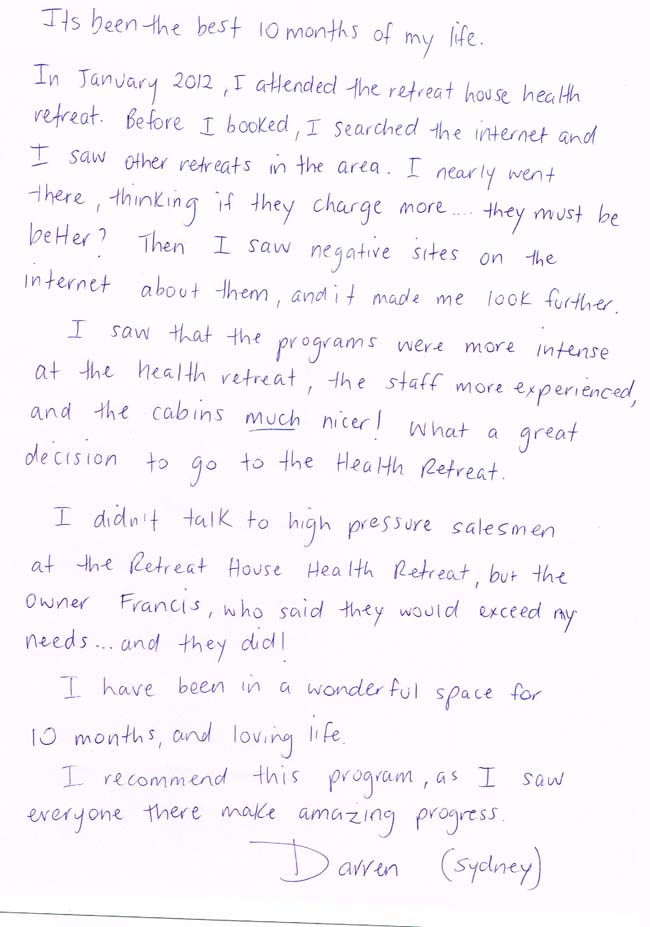 Its been the best 10 months of my life.

In January 2012, I attended The Retreat House Health Retreat. Before I booked, I searched the Internet and I saw other retreats in the area. I nearly went there, thinking if they charged more.. they must be better? Then I saw negative sites on the Internet about them, and it made me look further.

I saw that the programs were more intense at The Health Retreat, the staff more experienced, and the cabins much nicer! What a great decision to go the The Health Retreat.

I didn't talk to high pressure salesmen at The Retreat House Health Retreat, but the owner Francis, who said they would exceed my needs… and they did!

I have been in a wonderful space for 10 months, and loving life.

I recommend this program, as I saw everyone there make amazing progress.
Darren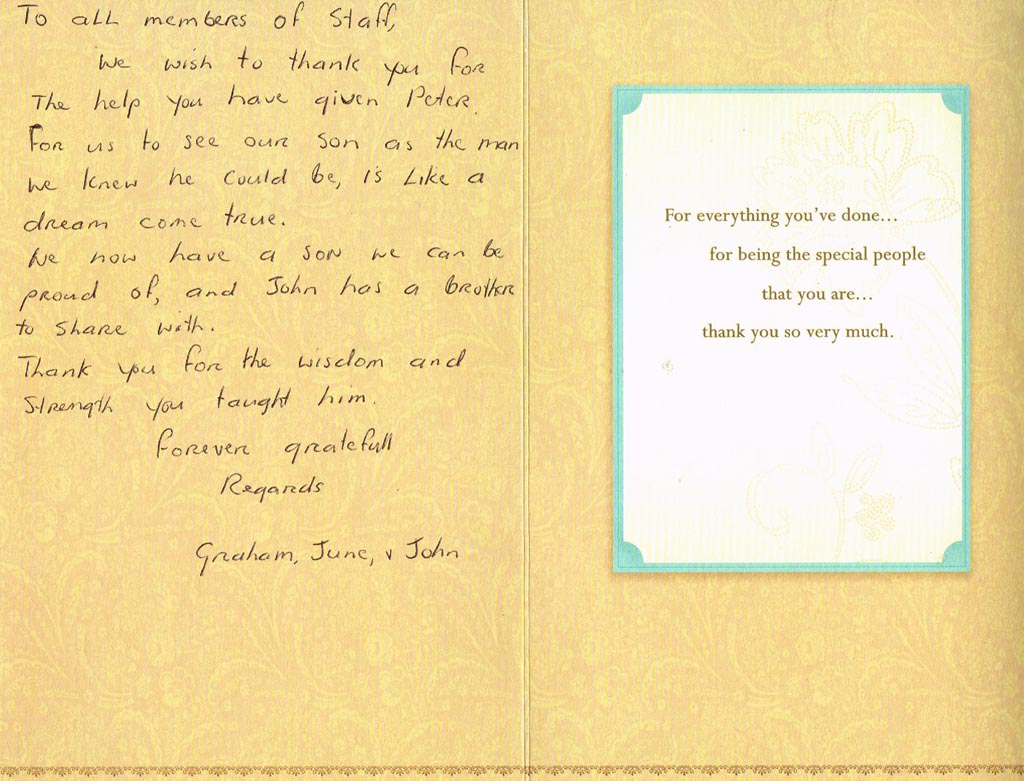 To all members of Staff,

We wish to thank you for the help you have given Peter.

For us to see our son as the man we knew he could be, is like a dream come true.

We now have a son we can be proud of, and John has a brother to share with.

Thank you for the wisdom and strength you taught him.

Forever great full
Regards
Graham, June & John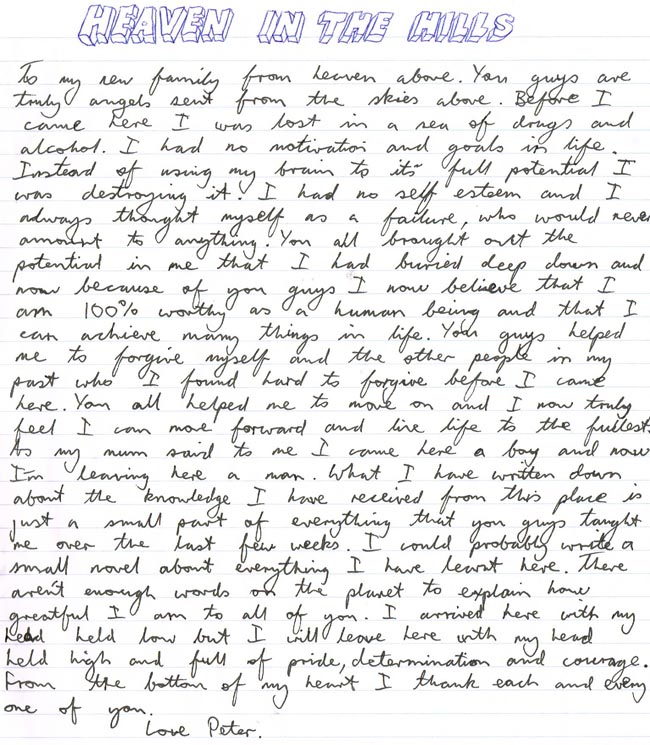 To my new family from heaven above. you guys are truly angels sent from the skies above. Before i came here I was lost in a sea of drugs and alcohol. I had no motivation and goals in life.

Instead of using my brain to its full potential I was destroying it. I had no self esteem and I always thought myself as a failure, who would never amount to anything. You all brought out the potential in me that I had buried deep down and now because of you guys I now believe that I am 100% worth as a human being and that I can achieve many things in life. You guys helped me to forgive myself and the other people in my past who I found hard to forgive before I came here. You all helped me to move on and I now truly feel I can move forward and live life to the fullest.

As my mum said to me I came here a boy and now I'm leaving here a man. What I have written down about the knowledge I have received from this place is just a small part of everything that you guys taught me over the last few weeks. I could probably write a small novel about everything I have learnt here. There aren't enough words on the planet to explain how grateful I am to all of you. I arrived here with my head held low but I will leave here with my head held high and full of pride, determination and courage. From the bottom of my heat I thank each and every one of you.
Love Peter.
I went to the retreat house because I really needed to break the rhythm of the rut I had got myself into. I got myself into some bad habits which were effecting my health and life dramatically. I thought if I could just get into a healthy and positive environment for a while I could break my habits and get back to a life where I could be happy within myself again. It sure worked. From the moment I arrived I was greeted and supported by a bunch of friendly, caring and impressive people that genuinely and privately wanted to help me with my cause. I am very grateful to them and for the outcome I have successfully achieved. I recommend this to anyone that needs to change. You only live once!
Regards and Thanks,
Chris
Our testimonials are unsolicited and are true representations of messages we receive from our clients and their loved ones. There is no guarantee of a particular result, but if you read through these testimonials you will see that we get many positive outcomes.