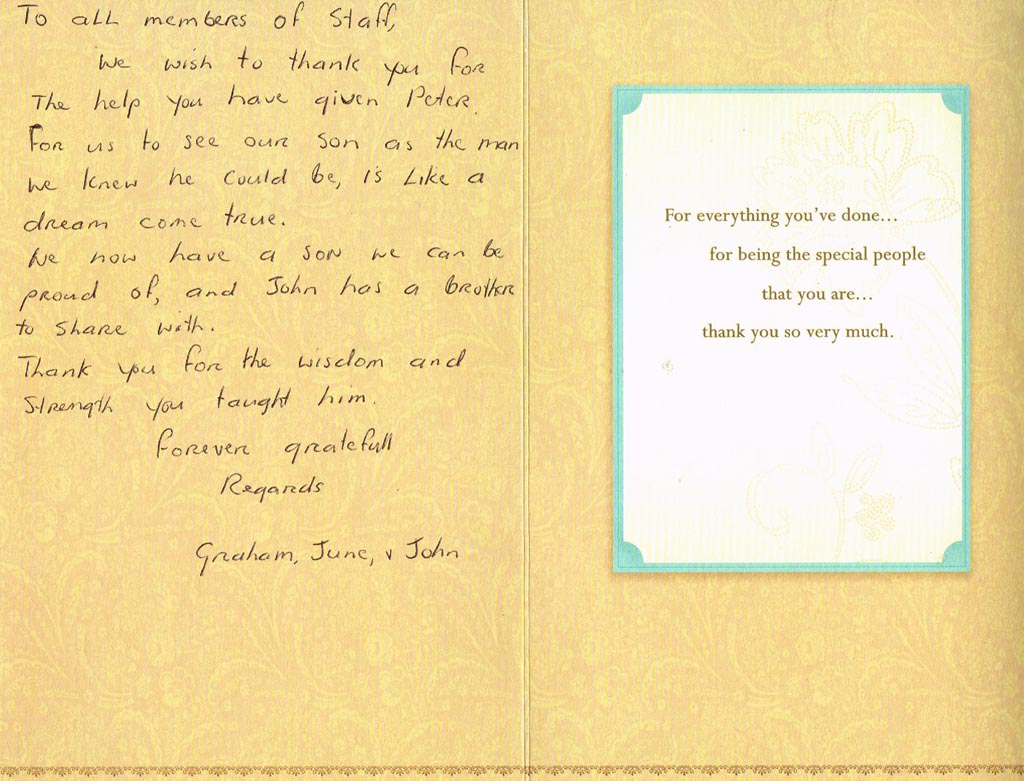 To all members of Staff,

We wish to thank you for the help you have given Peter.

For us to see our son as the man we knew he could be, is like a dream come true.

We now have a son we can be proud of, and John has a brother to share with.

Thank you for the wisdom and strength you taught him.

Forever great full
Regards
Graham, June & John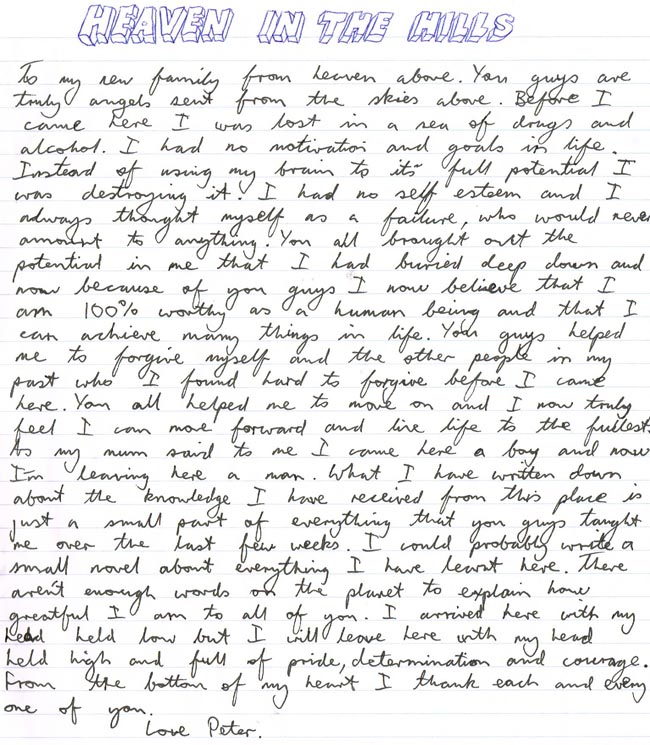 To my new family from heaven above. you guys are truly angels sent from the skies above. Before i came here I was lost in a sea of drugs and alcohol. I had no motivation and goals in life.

Instead of using my brain to its full potential I was destroying it. I had no self esteem and I always thought myself as a failure, who would never amount to anything. You all brought out the potential in me that I had buried deep down and now because of you guys I now believe that I am 100% worth as a human being and that I can achieve many things in life. You guys helped me to forgive myself and the other people in my past who I found hard to forgive before I came here. You all helped me to move on and I now truly feel I can move forward and live life to the fullest.

As my mum said to me I came here a boy and now I'm leaving here a man. What I have written down about the knowledge I have received from this place is just a small part of everything that you guys taught me over the last few weeks. I could probably write a small novel about everything I have learnt here. There aren't enough words on the planet to explain how grateful I am to all of you. I arrived here with my head held low but I will leave here with my head held high and full of pride, determination and courage. From the bottom of my heat I thank each and every one of you.
Love Peter.
I went to the retreat house because I really needed to break the rhythm of the rut I had got myself into. I got myself into some bad habits which were effecting my health and life dramatically. I thought if I could just get into a healthy and positive environment for a while I could break my habits and get back to a life where I could be happy within myself again. It sure worked. From the moment I arrived I was greeted and supported by a bunch of friendly, caring and impressive people that genuinely and privately wanted to help me with my cause. I am very grateful to them and for the outcome I have successfully achieved. I recommend this to anyone that needs to change. You only live once!
Regards and Thanks,
Chris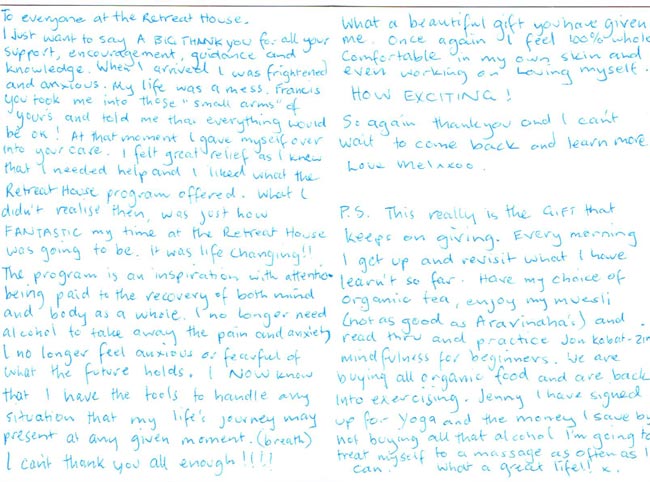 To everyone at The Health Retreat.

I just want to say A BIG THANK YOU for all your support, encouragement, guidance and knowledge. When I arrived I was frightened and anxious. My life was a mess. Francis you took me into those "small arms" of yours and told me that everything would be OK! At that moment I gave myself over into your care. I felt grate relief as I knew that I needed help and I liked what the The Health Retreat Program offered. What I didn't realise then, was just how FANTASTIC my time at The Health Retreat was going to be. It was life changing!!

The Program is an inspiration with attention being paid to the recovery of both mind and body as a whole. I no longer need alcohol to take away the pain and anxiety. I no longer feel anxious or fearful of what the future holds. i now know that I have the tools to handle every situation that my life's journey may present at any given moment. (breath)

I can't thank you all enough!!!

What a beautiful gift you have given me. Once again I feel 100% whole comfortable in my own skin and even working on loving myself.

HOW EXCITING!

so again thank you and I can't wait to come back and learn more.

Love Mel

P.S. This really is the gift that keeps on giving. Every morning I get up and revisit what I have learn't so far. Have my choice of organic tea, enjoy my muesli (not as good as Aravindha's) and read through and practice mindfulness for beginners. We are buying all organic food and are back into exercising. Jenny I have signed up for Yoga and the money I saved by not buying all that alcohol I'm going to treat myself to a massage as often ad I can.

What a great life!
Dear Francis and Carol,

Thank you for the wonderful time I spent at the retreat.  What a gift this has been.

As promised, I now have the tools to understand the basis for all my stress related reactions to life events and overcome them.  I found the information presented during the Intensive weekend extremely powerful – and provided the foundation for a broader understanding of our purpose for life and relationships. .

The personal coaching and group training sessions have been the triggers for life changing insights as I applied the new techniques learned to my personal situation.

All staff at the retreat house were welcoming, warm and friendly.  Every need was catered for, and the atmosphere was comforting, feeling like home. All my fellow guests were wonderful people, and the opportunity to share experiences has enriched my time there and accelerated my learning.

The food provided was absolutely delicious. I've also benefited from this wholesome, gluten and dairy free cuisine.  Three full meals each day, and yet  I even lost some weight.  I'm now changing my eating patterns and cutting out gluten and dairy in my diet.

Coupled with the amazing massage and yoga sessions, in a beautiful hills setting, this experience can only be described as an holistic opportunity for physical, psychological and spiritual renewal.

Thank you all for contributing to what has been the beginning of remarkable changes in my life.

God Bless and Love
Jane
Our testimonials are unsolicited and are true representations of messages we receive from our clients and their loved ones. There is no guarantee of a particular result, but if you read through these testimonials you will see that we get many positive outcomes.