I have just come home, after spending 3 weeks at the health retreat. I came in having to deal with 3 major issues in my life, being my alcohol intake, my hatred of living in Queensland, and dealing with family.
My two sons, found the retreat, spoke to Francis and Carol, and more or less, insisted I came in for at least 3 weeks. I knew I had to do it, as I may have lost them, and I certainly didn't want that to happen.
I can only say, that it was the best thing I have ever done in my life(and I am 67 years of age!) I participated in every group discussion in my 3 weeks there. This to me, was imperative, for me to regain my self worth. And, to think of my future life up here. Start to think of the beauty, and living here. With the care, and compassion shown to me, I have received that, and more.
Actually I found 'myself' at the retreat. I was still 'me' in my core, but my behaviour the last 3 years, had not shown my family that, which, is true, and I do understand their feelings.
To Richard, Natalie, Tina and Salima, thank you for listening to me. I got such a lot of knowledge from you, and coping skills to come home with, that really are priceless. It all is instilled in my brain now.
Salima, I thank-you now, for putting me in front of class, and each one came up to say 'something to me'. Although I HATE being the centre of attention, it made me aware of how I was thought of, with people that I had only known, for 3 weeks. And, I can now throw the ball to you!! I can quote, verbatim, the stress and wisdom models, off by heart!!
I will, without a shadow of doubt, recommend, the health retreat.
Thank-you so very much, and I look forward to coming back 5 January, and perhaps helping in any way I can.
A very merry Xmas to you all, and your families, and a very happy 2016 and continued success at the retreat.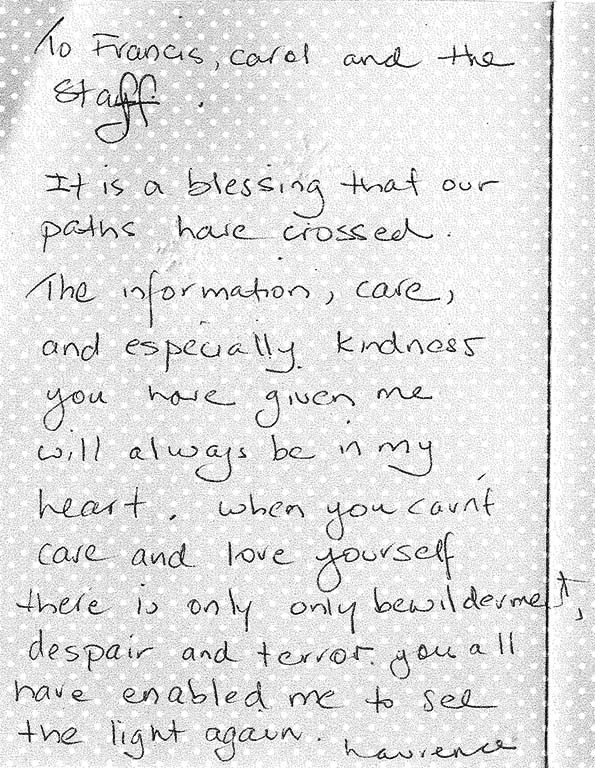 To Francis, Carol and the retreat staff,
It is a blessing that our paths have crossed. The information care and especially kindness you have given me will always be in my heart. When you can't love yourself, there is only bewilderment, despair and terror. You all have enabled me to see the light again.
Lawrence
Hello Guys….
Almost 8 months for Peter and I (Sharee) since we left the Health Retreat and we are still going strong and Drug Free!
We both have turned our life's around and loving what life has to bring us.
We are both working at Peters parents business and also living with them to help us keep strong and support:)
We have Peters children 40% of the time and enjoying every moment we have with them..
We are out doing so many things with friends and family and are so proud of our selfs.
Thank you Francis and the team at the Health Retreat for helping us both turn our life around and to be back with our family's:)
Peter and Sharee.
Hi Health Retreat Team,
I just felt an overwhelming desire to send you an email. I am doing really well, I am two weeks out from completing a course to be an AIN as I needed a change from disability care work.
In saying that I am still going through a really difficult time in trying to gain custody of my boys. I find it very frustrating that for having been ill for a period of two months, it has taken almost a year to rectify the situation and having to constantly prove myself is extremely emotionally draining. I deal with the guilt every day for my actions though I am able to deal with these feelings because of the wonderful life lessons I learnt during my time at The Health Retreat. I feel saddened to some degree that I didn't get to meet you all under different circumstances, though I am immensely grateful that despite my reactions you were all very supportive.
I learnt a great deal from each and every one of the life coaches and use their lessons every day.
With the current situation regarding my children I find myself reflecting on a lot of the things in all honesty I'm not sure how I would be coping through all of this without your words of wisdom.
I do at times find it frustrating trying to explain to people what I have learnt at the health retreat in such a short amount of time, as most people believe that to develop the life lessons and coping mechanisms I have, it would take months. I guess this is something I can not control, all I can do is try to show people in my actions and how I express myself.
Now that I have a much broader understanding of how to deal with life's many obstacles and how to process my own inner thougjts and feelings I feel very positive about my future and what I have to offer those around me.
Thank-you to all of the wonderful team and life coaches at The Health Retreat for sharing their own personal experiences and helping others to enjoy life, it truly makes a difference when people can relate to you and the practices you teach.
Many Thanks,
Name withheld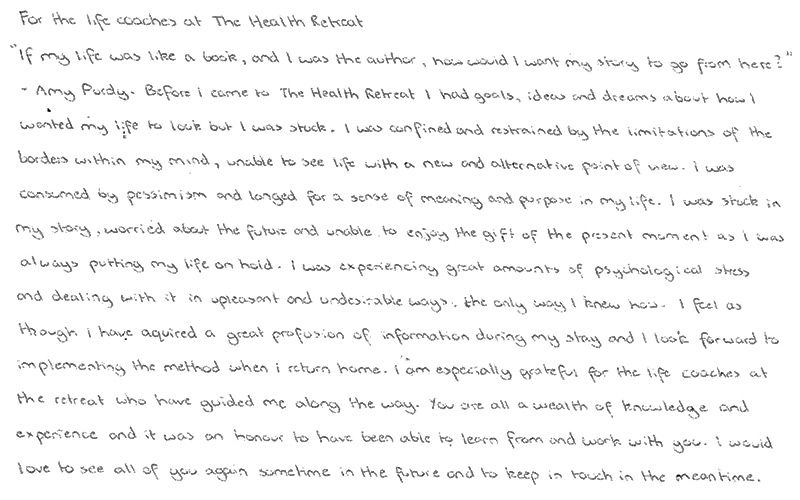 For the life coaches at The Health Retreat
"If my life was like a book, and I was the author, how would I want my story to go from here?" – Amy Purdy
Before I come to The Health Retreat I had goals, ideas and dreams about how I wanted my life to look but I was stuck. I was confined and restrained by the limitations of the boarders within my mind, unable o see life with a new and alternative point of view. I was consumed by pessimism and longed for a sense of meaning and purpose in my life. I was stuck in my story, worried about the future and unable to enjoy the figt of the present moment as I was always putting my life on hold. I was experiencing great amounts of psychologial stress and dealing with it in unpleasent and undersirable ways, the only way I knew how. I feel as though I have aquired a great profusion of information during my stay and I look forward to implementing the method when I return home. I am especially grateful for the life coaches at the retreat who have guided me along the way. You are all a wealth of knowledge and experience and it was an honour to have been able to learn from and work with you. I would love to see all of you again sometime in the future and to keep in touch in the meantime.
Our testimonials are unsolicited and are true representations of messages we receive from our clients and their loved ones. There is no guarantee of a particular result, but if you read through these testimonials you will see that we get many positive outcomes.