To our Future and Current Guests,
The health and safety of The Health Retreat's guests and staff has always been, and will continue to be our highest priority.
I'd like to take this opportunity to re-assure you that we are following all regulations and advice from the Australian Department of Health in regards to COVID-19 and are taking all precautions to ensure that you feel safe and welcome with us.
Beyond that we firmly believe that limiting exposure to fear and anxiety during these times is a step forward in ensuring your immune system stays strong.
This includes continuing to implement thorough sanitation processes with our staff, ensuring all surfaces are regularly disinfected, and far exceeding recommendations.
It is so important that if you feel your physical and mental health is at risk, that you take action to boost your immune system, address high blood pressure, de-stress and get the tools you need in this very challenging time.
The Health Retreat can provide an individual program for you and your partner. Get a complimentary assessment of where you are now and what you need to do going forward.
---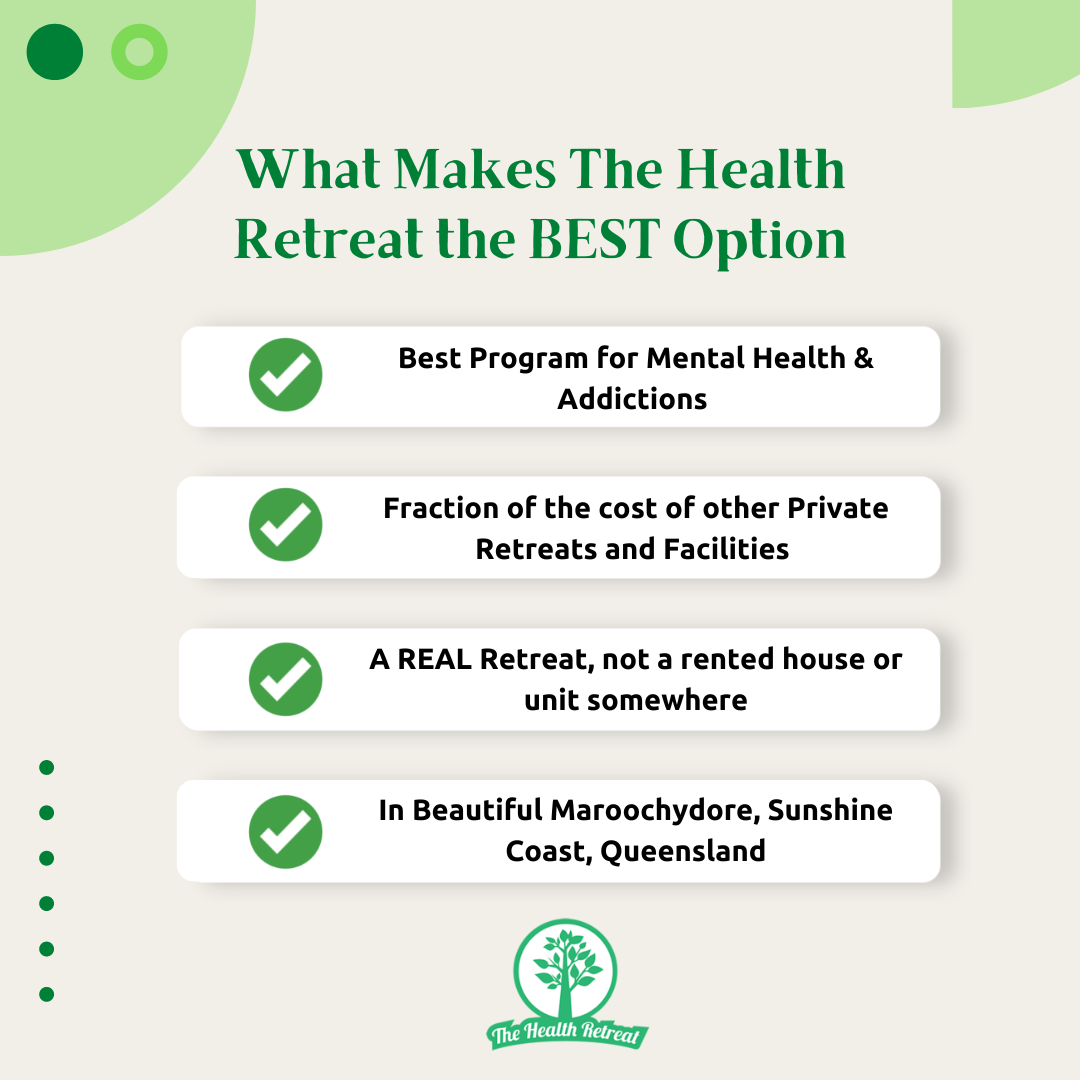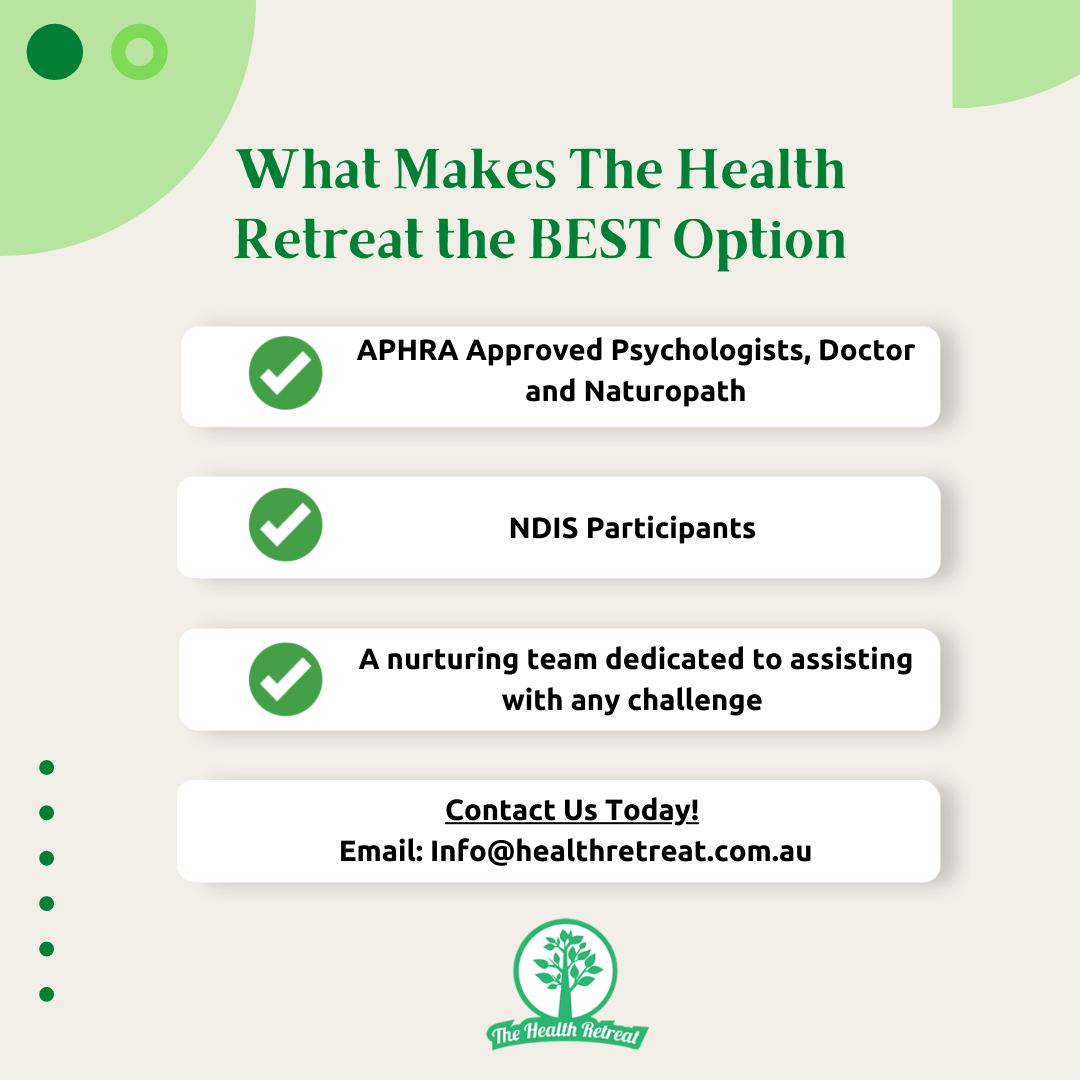 What have you got when you have…
The most experienced and qualified team of professionals anywhere.
The most effective program dealing with; depression, anxiety, mental health, self-worth and lifestyle challenges, real tools for life and a Health life and gut.
Unlimited day visits with food included post your stay, yes unlimited.
A brilliant support team who are committed to our client's recovery, YES COMMITTED support ongoing.
A brilliant Doctor and an Exceptional Naturopath, who achieve results when others cannot, hope is only a call or enquiry away.
The most caring holistic team, where medical co exists with natural in the most successful of ways, achieving great results, far better results than you have ever had.
Truly beautiful accommodation where you can recover in comfort, YES private accomodation where you have your personal space.
Couples and family counselling when required.
Staff that will spoil you while you change your life.
Where over 30 hours a week is spent changing neural pathways and consolidating the new thinking, thats more than most other programs have in many months.
There is no substitute for experience, where you can expect successful outcomes.
Support for the whole family, Mental Health is a family issue and that is our focus.
We do not offend any religion.
The Health Retreat are people and recovery based, its what we do
MOST IMPORTANTLY we do not give up, ever.
Don't pay more elsewhere for less the fact is the Health retreat has the finest program delivered by brilliant Professionals Click now and find out why there is only one option. The Health Retreat is the smart option for maximum outcome
Click here for the most effective Mental Health Program anywhere.
The Health Retreat
Enquire Now
or
---
Help is only a press of the button away…
How do I get help? Simply…
You can make the call right now or email for more information
Starting recovery has to begin with the person or family reaching out.
All I can say is do it now.
Life is too short to waste another day.
---
Sometimes life gets too much, we just can't take anymore, the family is falling apart, there seems to be no way out of this mess.
This program/workshop is for you.
Finally, a cost-effective program.
You need to get your program right now, don't put off help another day.
WHEN SALIMA SPEAKS, PEOPLE LISTEN
We may not be the most expensive, but our program is simply superior and much more effective than anywhere else at any price.
Our own team of Psychologists on staff, an effective plan which is adjusted as you need it to maximise effectiveness, Australia's most experienced team of Natural Therapists, Relationship counsellors for partners and families to work with the whole family while you are with us and when you go home.
Naturopathic assessments and seminars, biological and physiological assessments, Chinese Medicine administered by a person who worked for many years in Chinese hospitals, beautiful healthy natural food cooked on the spot by leading natural food chefs, a wonderful inclusive environment where amazing outcomes happen long term.
We have our own Doctor on staff.
All program include: And please note all aspects of the Program comply with Personal distancing to comply with your and others safety
Daily focus sessions on triggers and relevant challenges with upgrades for transitioning back into day to day life post retreat.
One-on-one psychotherapy, CBT, ACT, DBT, REBT, schema, critical incident management, post-trauma counselling, strengths-based practice, life coaching, journey, inner journey, and mindfulness sessions as required to re-enforce the changes to your first response to stress, getting rid of triggers, rebuilding self-worth, and setting the stage to go forward with peace of mind.
One-on-One program assessments. Adjustments are made to the program to best suit the individual ensuring the best long-term outcome.
Organic Cooking School Lessons. Learn the secrets of cooking organically.
2-day intensive session. An in-depth understanding of what depression, anxiety, and stress are, and understanding what to do long term. 12 hours of life changing work.
16 hours of real life therapies. These sessions run through real scenarios to better prepare you for life after the retreat.
Educational sessions in stress and many life preparation tools. These are not like group sessions you see in hospitals or on TV. They are used to consolidate the changes made to your thinking, to give you a new normal. The team are brilliant in educating you in real life situations. Talk therapy doesn't work, re-education, rebuilding self-worth, real tools for life's challenges. It will make sense and give you the blueprint for regaining your life. There is not a more comprehensive or effective program anywhere.
Full naturopathic seminars on healthy living. Learn from an expert who worked in Chinese hospitals for 7 years. Get the information you need to look after not only yourself but your family.
Full naturopath. Get results on your physical and biological situation, and understand what to do about your wellbeing long term.
Full doctor consultation. Our GP will give you a check-up and assess where you are now, and more importantly what to do now.
Introducing the foundation to understanding stress, anxiety, and depression.
Applying the program to your everyday life.
Mindfulness is best described as yoga for the brain, accepted universally as an extremely effective therapy for life.
Also included:
Breakfast, lunch, and dinner. Using premium organic food where available.
Weekly food school.
Juice detox Tuesday to Thursday (optional). A 3 day cleanse gives the digestive system that little break it needs to recharge.
Daily group exercise activities at your pace, morning and afternoon. This is part of the lifestyle change after the years of abuse to our body, so regaining the lifestyle change is crucial again complying with social distancing as directed by the federal government.
Laundry facilities.
Each cabin has a relaxing lounge. It is single accommodation but we can accommodate couples.
Campfires
Swimming pool
Sauna (One person at a time)
WHERE MEDICAL MEETS NATURAL TO ACHIEVE THE VERY BEST OUTCOME LONG TERM.
The Health Retreat programs give you the tools to manage your challenges more efficiently than ever before for these very debilitating life issues:
Stress
Physical and mental health issues
Trauma
Holistic health
Grief and loss
Communication issues
Weight loss
Depression disorder
Anxiety disorder
PTSD
Eating disorders Bulimia /Anorexia
Mental Health
Biological causes
Stress management
Bullying
Fibromyalgia
Pain management
Relationship break downs
Burn out and fatigue
Phobias and fears
Confidence and self-worth
Work place conflict
Identity issues
Biochemical imbalances
Physical challenges caused by the condition/or contributing to the condition
Lifestyle changes for post serious illness diagnoses (i.e. cancer, heart conditions, kidney conditions, liver conditions) note: for your long term recovery it is important to follow the dietary and physical instructions given by the treating specialist and our role is to help you to implement those instructions.
Once we identify the issues, we then implement a plan using a team of highly skilled professionals to strive for a successful resolution.
DO YOUR MEDICAL CONDITIONS PUT YOU IN THE RISK CATEGORY?
Individuals who have health related issues such as; 

cardiovascular disease, diabetes, high blood pressure and chronic respiratory disease

 (such as asthma) are susceptible to 

COVID-19

.
However, there is hope…
If you are over 40+ years of age, If you're single or have a partner. The Health Retreat recommends you take immediate action to build your immune system with a holistic live-in program. Designed and tailored specially for your needs.
Please share this with everyone you know, as taking action immediately could save lives.
Limited spaces available.
We have the ability for 6 months to 12 months Programs for people that need a longer period removed from their environment.
Contact us for a free consultation:
Seeing people return with their loved ones for a visit one, two and in Charlie's case 6 years later, is the most satisfying feeling…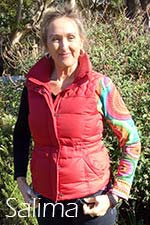 And She wouldn't even talk to Francis in the beginning…
We helped a a wonderful young woman who had a stroke because of her condition, she was wheelchair bound only days before she arrived.
Yes it took 6 weeks, and a lot of commitment from her, and the amazing skills of the staff at the retreat.
The results were wonderful and she walked out of the retreat totally transformed and truly inspired to take on a happy and positive life with purpose.
The Health Retreat is truly the leading program for all Mental Health Challenges.
Find out now how we can help you with your challenges, Contact us now.
I promise you, it will change your life..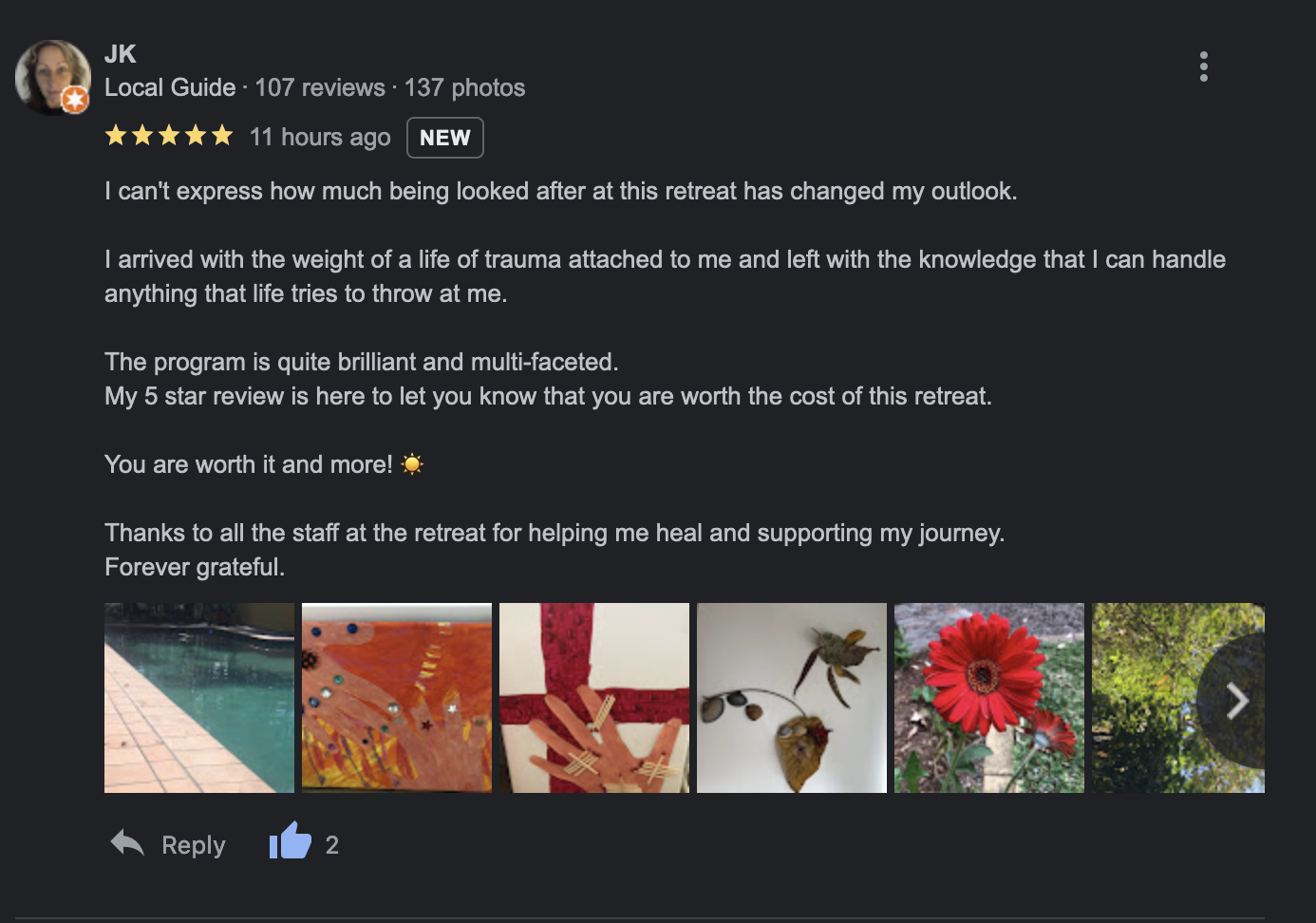 ---